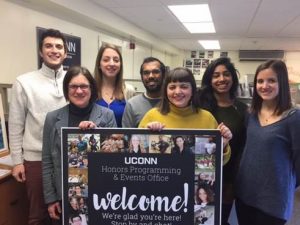 Our Vision
"We strive to connect Honors students to opportunities and each other through an inclusive community. We seek to develop positive influencers, ethical leaders, inclusive thinkers, and successful scholars. Our goal is to empower students and inspire new ideas, promote wellness, and provide opportunities for talent development for all students within the Honors Community."
What can you expect from us?
A friendly, safe, and welcoming environment

An individualized approach to your Honors experience

A commitment to inclusion and diversity

Knowledge and resources to help you succeed
We're here for you! Come see us: To connect with our office, please drop by. To connect with specific staff members please contact them via email.

Honors Programming and Events Office
1276 Storrs Road, Unit 4159 (Buckley Hall)
Storrs, CT 06269-4159
Email: honorsevents@uconn.edu
Phone: (860) 486-1616
Fax: (860) 486-1785
---
The Team
Danielle Chaloux (University Specialist) in the Programming and Events Office. She supports students with event-planning and advises Leadership in Action (LIA) and Honors in Business Association (HiBA).
Danielle is a Connecticut native and a proud Husky! She recently graduated from UConn with a degree in Resource Economics and one in French. Danielle loves books, travel, and meeting new people.
---
Kristen Glines (Program Coordinator) 
A note from Kristen:
Please feel free come by and talk any time you want. I love getting to know students and always strive to be as helpful and supportive as possible! I am happy to assist you in navigating UConn's myriad of opportunities to help you maximize your time here! Stop by any time!
Come see Kristen about:
Honors Council (HC), Honors in Business Association (HiBA), and Honors Initiative for Prospective Students (HIPS)
Honors Events
Involvement and Leadership Opportunities in the Honors Program
Support & Someone to Talk To
Contact: kristen.glines@uconn.edu |  ( 860) 486-6785
---
Christie Soltys (Program Assistant)

A note from Christie:
I enjoy building strong connections with students and hope to get to know a lot of you. Please feel free to stop by my desk in Buckley at any point. I am here as a resource to offer the support you need to be a successful student at UConn. 

Come see Christie about:
Honors Events and Programs
Honors Across State Boarders (HASB), Humanities and Arts Collective (HArCo), and Multicultural Honors Collective (MHC)
Involvement and Leadership Opportunities in the Honors Program
Support & Someone to Talk To
Contact: christie.soltys@uconn.edu |  ( 860) 486-2131