This year marks the 50th anniversary of the founding of UConn's Honors Program. In 1963, President Babbidge challenged the university to compete for the state's and nation's brightest students, against regional rivals such as Harvard University. When asked how he would accomplish this, Babbidge said he would create an Honors Program. In 1964, UConn welcomed its first class of Honors students. During the next four years, we hope you will join us to celebrate them and the thousands of alumni who have followed.
Interested in reconnecting to the Honors Program?
How about helping to plan the next four years of 50th celebrations? Fill out the form linked HERE to tell us how you'd like to be involved!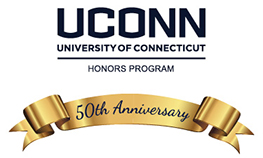 Upcoming Events
Coming Soon  |  New York City Networking Event
Past Events
October 25, 2014  |   50th Anniversary Networking Reception (part of Huskies Forever Weekend)
March 27, 2015  |   Boston Networking Event
April 16, 2015  |  DC Internship Closing Ceremony & Networking Reception