By the Honors Program
Outside the window of his classroom was a view of the Mexican border. His students were children growing up too fast in a climate of border violence and poverty. But Jeffrey "Steve" Ferketic '08 found a way to reach them. Ferketic joined Teach for America, seeking to make a difference in the lives of south Texas students. A biology and political science double major in the Honors Program, Ferketic was inspired by the other teachers in his family. He also knew his UConn education had prepared him for the challenges of this experience.
Ferketic worked with some of the least educationally prepared and lowest income students in the nation, teaching them a subject—chemistry—that on its surface appeared to have nothing to do with their lives. At first his students were resistant, but Ferketic's prodigious energy level and infectious sense of humor quickly won them over. He learned that science education gave him an advantage in teaching mostly native Spanish speakers. "Their English skills made it difficult, but science language means it doesn't matter what language you speak," he said.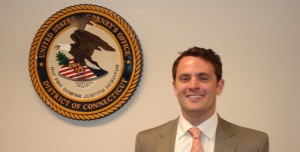 Ferketic worked one-on-one with students, helping them map out time management plans to fit school around family commitments and jobs, even if they could only study for 15 minutes on a break, and structuring assignments that built upon previous lessons. Homework packets began small, but eventually exceeded 100 pages. "It was visually intimidating," he said. Yet as the students' faith in Ferketic rose, so too did the percentage of completed homework assignments. By the end of his second year, nearly 75 percent of the students handed in their work. "They acknowledged and believed in the importance of the assignments," he said.
Solving complex problems is nothing new to Ferketic. While in UConn Honors, his interest in conservation took him on two different eight-month excursions, first to Cape Town, South Africa, and then to Rio de Janeiro, Brazil. He participated in conservation and urban development projects, even taking on leadership responsibilities alongside professors and graduate students. Recently, he reached a pinnacle of accomplishment for a young researcher; his findings were published in a professional journal, "Biological Conservation."
Now a second-year law student at Emory University in Atlanta, Ferketic has already put his legal education into practice. His 2011 summer associate positions took him first to a large Nashville firm where he focused on policy issues such as health care, and then to Hartford where he worked in the U.S. Attorney's Office. His time in Hartford exposed him to criminal and civil cases involving drugs, guns, and employment controversies.
Having learned to meet the high expectations of professors while in UConn Honors, Ferketic realizes the confidence he has developed in his abilities to meet the needs of clients and senior counsel. His mock interview preparation as a finalist for the prestigious Mitchell Scholarship helped ready him to earn a full scholarship to Emory University School of Law as a Woodruff Scholar. It is the highest honor an incoming student can receive from the Emory School of Law. But Ferketic noted that until you put them into practice, "You don't really realize what skills you're building."
Although it has been three years since Ferketic was a UConn Honors student, he says he sometimes feels as though he never really left. He credits the influence and continued mentorship of UConn faculty members and Honors and Enrichment staff as important resources, and he still remains in close contact.
Return to the Fall 2011 issue of the Honors Alumni eNewsletter
---