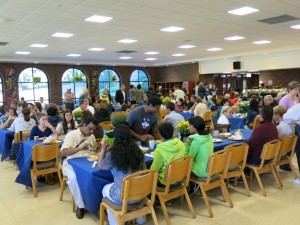 All first-year Honors students and their families are invited to celebrate Family Weekend 2017 with a buffet breakfast in Buckley Dining Hall, part of the first-year Honors residential community, on Saturday, October 7. We are excited to welcome as many of you as possible and in order to do so, we ask that you please register for a seating time below. Registration will open in August.
Please arrive within the first fifteen minutes of your seating and you will have approximately 45 minutes to enjoy breakfast with your family. If you register for an earlier seating, you will encounter less traffic on campus and have a shorter wait time in the dining hall. At the end of each seating, you will have the opportunity to head next door to the Pequot Room, located in Shippee Residence Hall, for a presentation about the Honors Learning Community by Dr. Jennifer Lease Butts, Director of the Honors Program. If you have any questions about this event, please contact the Honors Programming and Events team by sending us an email or calling our office at (860) 486-1616.
There are several ways to pay for breakfast. Students can swipe their meal cards to pay for themselves. To pay for other family members there are four options: 1) students may use flex passes to pay for family (strongly encouraged), 2) students may use points to pay for family members, 3) Husky Bucks can be used to pay for family members, or 4) you may pay at the door. The cash price of breakfast is $8.05 plus tax. Cash is accepted. You can avoid paying sales tax by using flex passes, points, or Husky Bucks. Please consult with your student on the best method for your family.
Honors First-Year Family Weekend Breakfast Registrations are below.
REGISTRATION WILL OPEN SHORTLY.

Seating 1 – Arrive between 7:30 – 7:45 a.m., finish by 8:30 a.m.
Seating 2 – Arrive between 8:30 – 8:45 a.m., finish by 9:30 a.m.
Seating 3 – Arrive between 9:30 – 9:45 a.m., finish by 10:30 a.m.
The Honors Learning Community presentation by Dr. Lease Butts will take place at the end of each seating in the Pequot Room.