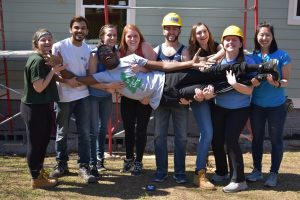 UConn Honors believes leadership is a process that involves leaders and followers striving to meet common goals in order to improve their communities.  We also believe that Honors students have the talent, drive, and capacity to make the world a better place through collaboration, change, and innovation.  The Honors Programming & Events and Honors Guides for Peer Success (GPS) teams work together to support UConn Honors students as they exercise leadership for the common good.
The University Honors Laureate Leadership Experience
To graduate as a University Honors Laureate, or UHL, a student must complete a Leadership Experience in which they (1) prepare a plan for leadership development through self-reflection and peer coaching; (2) enact this plan; and (3) reflect upon their experiences individually and with an Honors GPS peer coach.  For an overview of the steps of this process, please visit the Leadership Experience Process Overview page.
By completing the UHL Leadership Experience, UConn Honors students will be able to:
articulate a personal definition of leadership that includes an examination of the role of self, others, and society / context;
exercise leadership that creates positive change in a community of practice;
reflect critically on a leadership experience to both learn from successes and identify areas for future leadership development.
Prior Leadership Experience
The great thing about leadership development is that it lasts a lifetime!  Even Honors students who have extensive experience practicing leadership aren't done making the world a better place.  We also hope that Honors students will learn a good deal about their leadership and working with others through the leadership experience's emphasis on peer coaching and guided reflection through engaging in a leadership experience that is distinct from any prior endeavors.  Your GPS coach will help you to consider how your prior leadership endeavors can help inform your journey through the University Honors Laureate Leadership Experience.
Want to Get Started?
UConn Honors students are eligible to start their UHL Leadership Experience at any time.  The first step is to attend a leadership workshop conducted by the Honors GPS team.
**Please note: The leadership experience must be done completely proactively. This means that your Leadership Action Plan must be approved by your coach, and you must meet with your GPS coach before starting any part of your leadership experience. Projects that have already been started in any way can not be accepted to count for your Leadership experience.
University Honors Laureate Leadership Workshop Dates 
Fall 2022 Dates:
Wed. September 14th at 5:00pm in McHugh 111
Thur. September 22nd at 7:00pm in Buckley 119*
Mon. September 26th at 7:00pm in McHugh 110
Thur. October 6th at 6:00pm – Virtually in WebEx**
Tue. October 11th at 5:00pm in Buckley 119*
Thur. October 13th at 5:00pm in DWTN 226 (Stamford Campus)
Wed. October 19th at 7:00pm in McHugh 110
Mon. October 24th at 7:00pm in Buckley 119*
Tue. November 1st at 7:00pm in McHugh 110
Wed. November 9th at 6:00pm in McHugh 111
Thur. November 17th at 5:00pm in Buckley 119*
*Hybrid/virtual attendance options are available for workshops taking place in Buckley 119
**One fully virtual workshop is being offered this semester. The link for the WebEx room can be found in Nexus.
Please sign up to attend a workshop through Nexus under Enrichment Programs Events using this link. Then select GPS to narrow search and register for a workshop.
Workshops are limited to the first thirty students who sign up to attend.  After you attend a workshop, the Honors GPS staff will coach you through using Portfolium to submit the Leadership Experience.
If you are unable to attend a workshop but still wish to get started on the UHL Leadership Experience, please contact the Honors GPS Team.
What if I'm Not Pursuing the University Honors Laureate Award?
UConn Honors students entering the program before fall 2018 or UConn Honors students admitted after fall 2018 who are planning on pursuing only the Honors Scholar award are not required to complete the formal Leadership Experience.  However, we still encourage all Honors students to exercise leadership!  Feel free to email the Honors GPS staff if you wish to explore ways in which you can create positive change in your communities if you are not currently pursuing University Honors Laureate designation.
Questions?
Contact the Honors GPS team or the Honors Programming & Events Office to explore how you might exercise leadership as an Honors student or to work toward completing your University Honors Laureate Leadership Experience.