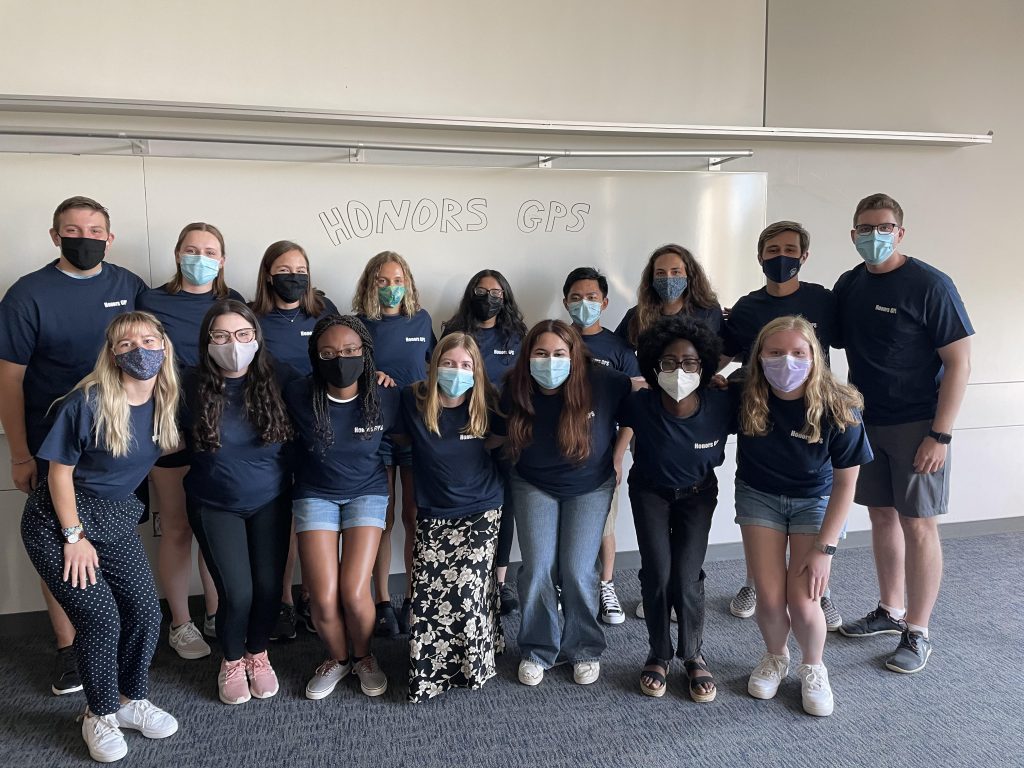 Honors Guides for Peer Success (GPS)
The Honors GPS Team collaborates with Honors staff to help students understand and complete Honors co-curricular graduation requirements. Honors GPS team members will guide peers in planning their events, leadership, and enrichment goals.  Honors GPS team members also provide Honors students feedback on their Honors progress. Honors GPS responsibilities include coaching students through their leadership experiences, providing feedback on student event reflections, and facilitating workshops for Honors students to further their development.  Honors GPS team members are also available for Honors student consultations on a variety of matters — they are always a friendly ear or someone to talk to.
Want to Schedule an Appointment with an Honors GPS?
The Honors GPS Team has walk-in hours when regular semester classes are in session. For the Spring 2022 semester, the Honors GPS Team will be accessible for virtual office hours by checking in on Nexus (nexus.uconn.edu) or in Buckley or Rowe (see locations/times at bottom of page). To check-in to Honors GPS virtual office hours: sign into Nexus, go to "Check-In", choose Storrs, then Honors GPS.  Students at regional campuses are encouraged to connect with the Honors GPS team during virtual office hours or over email. Consult the current term's GPS Team schedule below for their hours. For a tutorial video on how to attend drop-in hours on Nexus click here. Otherwise, you can schedule an appointment by emailing them at honorsgps@uconn.edu
2021-2022 Honors GPS Team
Learn more about our Honors GPS team and check their hours of availability by reading their biographies here!
Resources
The Honors GPS Team often compiles helpful resources for students and can refer students to helpful resources available at UConn. For example check out their interactive handout that has helpful links related to course registration.
Want to Become an Honors GPS?
Applications for Honors GPS Team members are typically made available during the middle of the spring semester.  Interested Honors students should watch Updates in Honors, Honors Weekly, or their email inbox for more information.
Contact the Honors GPS Team
Email: honorsgps@uconn.edu
Summer 2022 Hours
Please note that as of 6/13/22, the Honors Guides for Peer Success (GPS) will not be offering office hours during the summer until the start of the fall semester. If you need to contact the GPS team, please email honorsgps@uconn.edu.