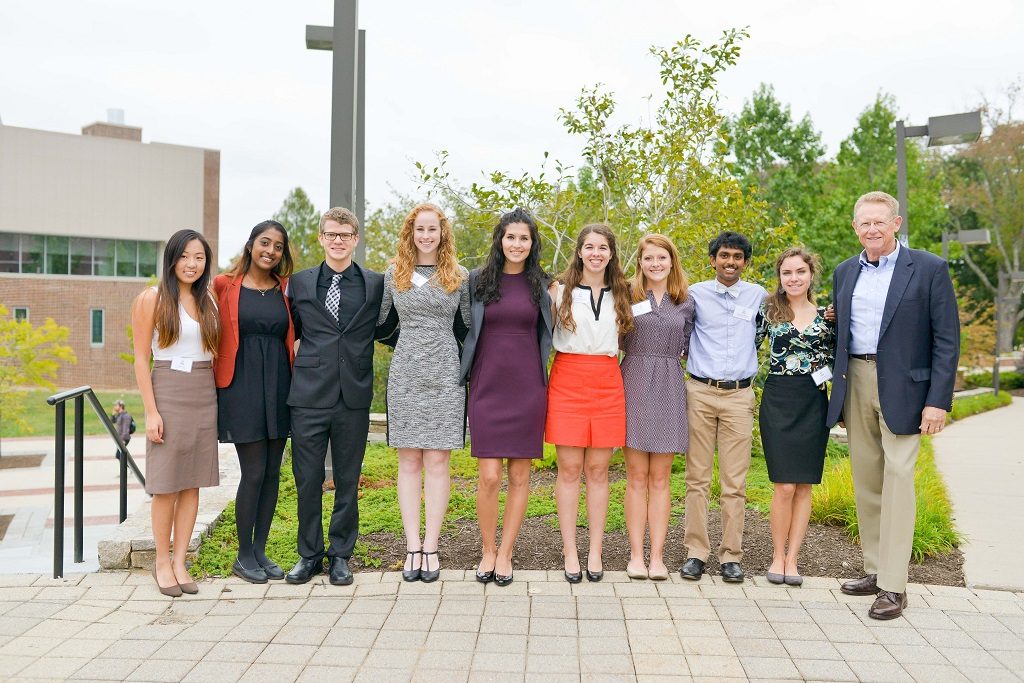 Akshayaa Chittibabu, from Shrewsbury, MA, is a STEM Scholar majoring in physiology and neurobiology with aspirations to attend medical school and specialize as an OB/GYN.  This path and her Holster project were inspired by her volunteer work in Tamil Nadu, India, where she encountered rural South Indians with low access to health care. In the U.S., Akshayaa has extensive experience as a student researcher, having interned at UMass Medical School and Tufts University Biomedical Engineering Department. She has also volunteered with UConn Global Medical Brigades, UConn Alternative Breaks and the Upper Merrimack Valley Medical Reserve Corps.  She is the recipient of the Fisher Scientific Excellence in Biomedical Research Award and Third Place Grand Award recipient in Cellular Biology at the Intel International Science and Engineering Fair, among other accolades. On campus, Akshayaa is part of the Writing Center tutoring staff and is an active slam poet and board member of UC Poetic Release and Performance Crew, the UConn spoken word collective and slam poetry team.
Project: "Assessing the Influence of Select Sociodemographic and Socioeconomic Factors on Non-Compliance to Follow-Up Cervical Cancer Care in Rural Women: A Study in Rural South India"
Mentor: Dr. Bandana Purkayastha, Dept. of Sociology
Tyler Daddio, from Beacon Falls, CT, is a STEM Scholar and computer science and engineering and mathematics double major with a passion for programming and a keen interest in bioinformatics.  A graduate of Notre Dame High School in West Haven, CT, he was the lead programmer for their VEX Robotics Team and Captain of the Math Team. Last May, he was a student internship assistant for the Department of Computer Science and Engineering and then spent the summer in Seoul, Korea as an International Summer Campus Student at Korea University.  He has created a fun and informative You Tube series called, "CoderTheTyler," an animated introduction to Java programming.  He is also a founding member and Treasurer of the new UConn Street Performers Club.
Project: "Computational Modeling of the T Cell Receptor Repertoire"
Mentor: Dr. Ion Mandoiu, Dept. of Computer Science & Engineering
Sarah Ferrigno, from Belle Mead, NJ, is a psychology major interested in studying behavioral neuroscience. During high school, Sarah volunteered to work with children with multiple disabilities and mentored students with disabilities for the Special Olympics. She was also a member of her school's inaugural varsity volleyball team. A member of the Alpha Lambda Delta honor society, she is also a member of UConn's Psychology Club and a research assistant in the laboratory of Dr. John Salamone, which helped to further inspire her project examining the antidepressant potential of Preladenant, a drug originally developed to treat Parkinson's Disease.
Project: "The Role of Adenosine in Motivational Symptoms of Depression: Studies on the Effects of Preladenant in Animal Models"
Mentor: Dr. John D. Salamone, Dept. of Psychology
Kathrine Grant, from Groton, CT, is an English and Pre-Teaching (ACES) major passionate about education. At Fitch High School in Groton, she has amassed an array of educational experience, serving as a teaching assistant, peer tutor and peer mediator, and completed research projects on stress and high-achieving students and "an experiment to investigate the effect of interference on task reaction time." In college, she is a member of UConn Future Educators, an organization that works with CT schools to enhance academic opportunities, and volunteers through the Office of Community Outreach as a tutor at Windham High school.  Last fall, Katie was a participant in UConn's Discovery Leadership Program and is a current member of the UConn Honors Book Club and the UConn College Democrats.  She is the recipient of numerous awards and accolades, including: The Community Foundation of Eastern CT Smith Literary Scholarship, the Alpha Delta Kappa Gamma Scholarship for Students Entering Education and the Groton Rotary Scholar Award for Community Service.
Project: "Connecticut Public and Charter School Enrollment and Funding: An Assessment of Data and Public Opinion"
Mentor: Dr. Shaun Dougherty, Dept. of Education Policy & Leadership
Kayleigh Granville, from Newton, CT, is an environmental science major.  Committed to the environment and environmental education, she has spent significant time as a teacher, camp counselor and outreach promoter at the Webb Mountain Discovery Zone in Monroe, CT, where she plans to conduct her Holster field research.  In high school, she was president of the Environmental Club and a member of the marching band's Color Guard.  Upon graduation, she had amassed several awards including: the AP Environmental Science Top Student Book Award, the AP Latin Top Student Book Award, Summa Cum Laude Silver Medal Latin Award and the Rachel Carson Book Award.  At UConn, she is a member of the Wildlife Society and works as an assistant at the George Stafford Torrey Herbarium, where she catalogues delicate plant specimens from around the world.
Project: "An Evaluation of Impacts of Road Runoff on Food Webs in Ephemeral Wetlands"
Mentor: Dr. Ashley Helton, Dept. of Natural Resources & the Environment
Sricharan Kadimi, from Orange, CT, is a Nutmeg Scholar, Stamps Scholar and member of the Special Program in Medicine majoring in chemical engineering with minors in mathematics and molecular and cell biology.  Currently, Sricharan is working in the laboratory of Professor Mu-Ping Nieh, learning about lipid bicelles.  In summer 2013, he participated in UConn Mentor Connection in the laboratory of Professor Challa Kumar in the Dept. of Chemistry.  Also during high school, he had two research experiences at Yale University: one working with solar cells in the electrical engineering department and the other analyzing data for the Yale OCD Research Clinic.  He competed on his school's Varsity Math Team and Science Olympiad Team, competed at the state and New England levels in Cross Country and Track and continues to run many (many) miles every week.  In addition, he is an accomplished viola player and currently plays with the UConn Symphony Orchestra.
Project: "Intracellular Fate of Lipid Bicelles in KB Cancer Cells"
Mentor: Dr. Mu-Ping Nieh, Dept. of Chemical and Biomolecular Engineering
Grace Lee, from Storrs, CT, is a molecular and cell biology major with a minor in urban and community studies.  Admitted to UConn's Special Program in Medicine and freshman representative to its Board, she aspires to become a physician with keen insight into the sociological dimension of health care, access and treatment. Currently, she assists in the laboratory of Li Wang in the Dept. of Physiology and Neurobiology, which conducts research on the regulation of chronic liver disease. Grace has also volunteered at RiseUp, a community outreach organization in Hartford, at Windham Hospital and their National Cancer Survivor's Day in Willimantic.  In high school, she was a proven athlete, running on E. O. Smith's Cross Country Team for three years and with the Track Team for all four years. She also received the Outstanding Contribution and Leadership in English Award and the President's Education Awards for Outstanding Academic Achievement.
Project: "Equal Access and Equal Knowledge of Health Care: Health Insurance Literacy and Advocacy for Disadvantaged Consumers"
Mentor: Dr. Reinaldo Rojas, Dept. of Urban & Community Studies
Alyssa Matz, from Cheshire, CT, is a molecular and cell biology major with a particular interest in the biology and management of invasive species, a topic she began researching in high school.  Alyssa also gained research experience through the UConn Mentor Connection summer program.  She is a member of the UConn Wildlife Society and a volunteer for the Connecticut Invasive Plant Working Group.  She has worked for many years as a veterinary technician assistant at Animal Medical Care of CT in Cheshire and volunteers for the Friends of Feral Cats of Cheshire, in addition to being president of her local Kiwanis Key Club International service organization.  A member of the Alpha Lambda Delta honor society, Alyssa is also a recipient of the AP Scholar with Honor Award and the Cheshire Suburban Garden Club Scholarship and is a former member of the Rhythm Dance Academy Competitive Dance Team.
Project: "Investigating the Chemical Signals for Effective Biological Control of Lythrum salicaria (Purple Loosestrife)"
Mentor: Donna Ellis, Senior Extension Educator
Mary Szarkowicz, from Watertown, CT, is a political science major with a passion for politics.  Since her arrival at UConn, she has served as a Bennett Research Assistant for Professor Virginia Hettinger in the Dept. of Political Science, helping to code data on court cases for a project on "Electoral Implications of Judicial Scandal," which helped to inspire her Holster project examining the relationship between lobbyists and legislators.  She is a member of the Honors Council's Social Committee and a competitor with UConn's Club Running team, having been a competitive runner and team captain in high school, where she qualified for the State Championships in Cross Country and received numerous accolades, including the Naugatuck Valley League Outstanding Senior in X-C and multiple Coaches Awards in track.  Also in high school, Mary was part of the World Language Honor Society, a volunteer at Midstate Medical Center in Meriden, CT and a tutor at her school, Watertown High.  She graduated an AP Scholar with Distinction, having received the Social Studies Award, Excellence in the Natural Sciences and the CIAC Scholar-Athlete Award.
Project: "Analyzing the Lobbyist-Legislator Relationship"
Mentor: Dr. Virginia Hettinger, Dept. of Political Science