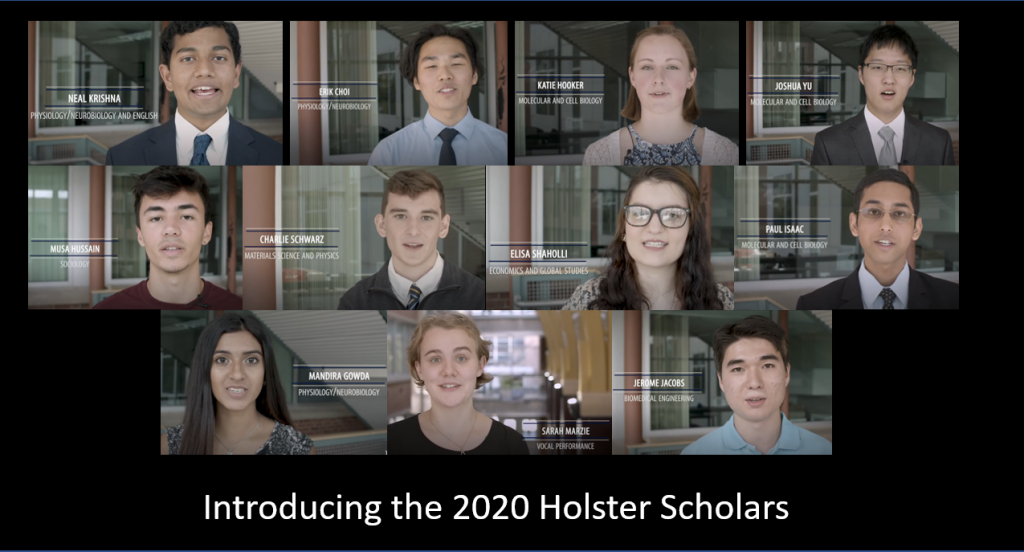 The Holster Scholars First Year Project is a highly selective enrichment opportunity for curious first-year Honors students that supports a small number of motivated students interested in independent research, design, or creative projects the summer following their first year. Holster projects are in-depth, individualized learning experiences.  Beyond some basic requirements, projects are self-designed.  The Holster Scholars Program is made possible by a generous gift from Robert ('68) and Carlotta ('68) Holster.
Applications, due in early November, are reviewed by an interdisciplinary committee of faculty and staff who then invite 12-15 promising applicants to enroll in a one-credit proposal development seminar in the spring.  Finalists spend the first half of the spring semester refining their proposals before submitting them mid-semester.  At that point, the committee reviews the proposals and, after two rigorous rounds of interviews, selects the new cohort of Holster Scholars.  Most years, between 8-10 Scholars are selected.  Scholars pursue their projects over the summer under the guidance of a faculty mentor and then present their research to the university community at the Holster Scholars Research Symposium in September.
In 2020, our symposium was a virtual event, hosted on Zoom, which took place October 6-7.  An archive of the event is available on our YouTube page.  You may download the event program, including Scholar biographies, here.  
Erik Choi | Storrs, CT | The Role of Sex Hormones in Heterotopic Ossification | Mentor:  Prof. David Goldhamer, Molecular & Cell Biology
Mandira Gowda | Queens, NY |

Incorporating

Deep Lab Cut

Software to Better Understand the Processes that Contribute to Observational Learning in Rats | Mentor:  Prof. Etan Markus, Psychological Sciences
Katie Hooker | Guilford, CT |

Investigating Reading and Language Phenotypes Through

FOXP2

Genetic Variants | Mentor:  Prof. Nicole Landi, Psychological Sciences
Musa Hussain | New Haven, CT | Intersectionality and the Climate Movement | Mentor:  Prof. Mary Bernstein, Sociology
Paul Isaac | Storrs, CT | A Sticky Situation: An Investigation of Horseshoe Crab Clotting Factors | Mentor:

Prof. Rachel O'Neill, Molecular & Cell Biology
Jerome Jacobs | Vernon, CT | A Wearable Armband Biosensor for Continuous Blood Pressure Monitoring | Mentor:

Prof. Insoo Kim, Biomedical Engineering
Neal Krishna | Winchester, MA | Characterizing the Genetic and Molecular Landscape of Supratentorial Ependymoma | Mentor: Prof. Joseph Lo Turco, Physiology & Neurobiology
Sarah Marze | Canton, CT | Songs of Salem:

Toward the Hanging Tree |

Mentor:

Prof. Kenneth Fuchs, Music Composition
Charles Schwarz | Beacon Falls, CT | Exploring the Effects of Anthropomorphism and Realism

in Emotional Reactions to Robots |

Mentor:

Prof. Kristine Nowak, Communication
Elisa Shaholli | Wolcott, CT | Comparing Representations of Physical, Visible Disability and Diabetes in Fantasy Films | Mentor: Prof. Brenda Jo Brueggemann, English
Joshua Yu | Frederick, MD | Correlating Intracellular Distribution of Nanoparticle Therapeutics with Cytotoxicity | Mentor: Prof. Xiuling Lu, Pharmaceutical Sciences
Congratulations to the eleven outstanding students who comprise the 10th cohort of Holster Scholars!
To learn more about the Holster Scholars Program, contact
 Vincent G. Moscardelli, PhD
Director, Office of National Scholarships and Fellowships
Coordinator, Holster Scholars Program