Connections from Portfolium to Google Drive are currently not available. Portfolium is looking into the issue. In the meantime, please download your Google Slides file as a PowerPoint (.pptx) or PDF document, then upload it to your Portfolium project. (Putting a link to your Google Slides file inside your project will not work.)
Important: This page is for students who entered UConn in Fall 2018 or later and are seeking the University Honors Laureate award. 
The Academics in Action requirement for University Honors Laureate consists of completing an academic enrichment experience, in which you demonstrate creative productivity in addition to or beyond that required by the thesis or capstone project. You will then complete a reflection upon that experience and submit it through Portfolium.
More information about Academics in Action, including how to determine whether your experience qualifies.
*Note:
We recommend that you submit a draft of your Academics in Action reflection if you're not sure if your planned experience may qualify. A
completed
Academics in Action reflection will always need to be submitted after the experience is finished, but if you label your reflection "DRAFT Title of Experience," the
Honors GPS
reviewing it will know that you plan to resubmit and will only give feedback on the portions you were able to start. You can also meet with an
Honors GPS
!
Completing the Academics in Action Reflection
You will use a Google Slides template for this reflection.
Check again that this is the correct template, then click the blue "USE TEMPLATE" button at the top right of the window.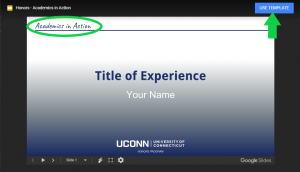 Create your reflection using the template and the instructions it contains.
Despite this being a very small part of the instructions, it is where you should spend the most time and thought!
Submitting Your Reflection

Academics in Action will be submitted through Portfolium. After you sign in, click the tasks icon in the top menu.
Click the box showing the University Honors Laureate: Academics in Action Pathway.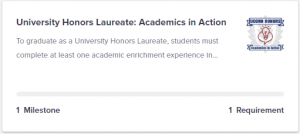 This Pathway has 1 "milestone," which has 1 "requirement."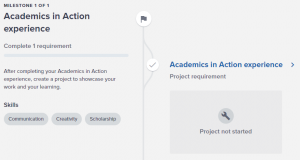 Click the gray "Project not started" box, and then the blue "Start a new project" on the following page.
You can leave the project title as it is, or you can choose to rename it. You want to attach your Google Slides file, so click the More options link.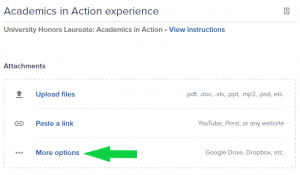 Follow the prompts to connect your Google account and then upload the reflection you created.
If you want to change the title that is displayed or add a caption, click the pencil icon to the right of the attachment.
Fill out the rest of the project form.
Your Academics in Action experience can also be showcased in your professional ePortfolio, so add additional media or links to demonstrate your learning, and add relevant skills as well.
Submit the project for review by an Honors GPS. If you realize that you made a mistake, you can unsubmit your project at any time prior to review, make changes, and then resubmit.
After Review
There are two possible results of the Honors GPS review. They may send a request for revision, or they may mark the requirement as completed. For either option, you should receive a notification both in your email and in Portfolium.
Revisions Requested
When you click the notification for a submission that needs revision, you can see the feedback left by the Honors GPS.
If you need to make changes to your reflection, go back to the original Google Slides file, make changes, then come back to this screen to edit your project. You must attach the Google Slides file again. (The file gets uploaded each time.)
Once the project is revised, use the blue button to re-submit.
Requirement Completed
Your Academics in Action submission will only be scored once you have met all criteria. You should view the full rubric to see the feedback left by the Honors GPS. It may help you improve your professional ePortfolio.
When you complete this requirement, you earn the Academics in Action badge, which will be displayed on your Portfolium profile!