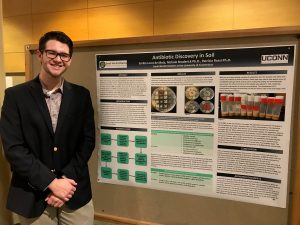 The Rowe Scholars Program supports involvement in activities that will promote the Rowe Scholars' professional goals. Those who are interested in other forms of professional development should take a look at the UConn School of Dental Medicine's Passport to Dentistry Program, the Pre-Medical and Pre-Dental Office's MCAT/DAT Test Review Courses, or UConn Health's Office of Health Career Opportunity Programs' Medical/Dental Preparatory Program.
Funding Possibilities
Event registration fee
Poster preparation costs
Transportation
Lodging and meals
Mileage if driving one's personal vehicle (at the approved mileage rate)
Opportunities relevant to individual goals
Funding for unpaid/low paying internships: Internships are designed to supplement students' formal education and allow them to gain practical work experience. They are more substantial than a part-time job and last between two and four months. An integral component of the internship experience is the inclusion of learning activities separate from a student's work tasks. Examples of learning activities include the opportunity to observe meetings or client appointments, the ability to shadow staff in other departments, networking, reflection activities, and journals. (From the Center for Career Development.)
Application
Be prepared to include the following information with the Funding Request Form:
a description of the program/event you wish to attend.
a line item budget that includes: (see

Guidelines for Budget Preparation

for more information)

all costs of attendance.
a grand total.
documentation of expenses in support of the budget.

a copy of a receipt, letter, invoice, etc. indicating that you've paid or otherwise been accepted to your professional development activity.
rationale for participation in activity; how it's tightly aligned with your professional goals and how it's the most efficient and effective way for you to attain your goals.
if an internship, description of how the experience is more than a job and different from research.
participation in Rowe.
Approved Requests
Please Note: It will take at least five weeks from the time your application is submitted for you to receive funding!
If a student has an outstanding balance owed the university when funds are awarded, those funds will be applied to the balance due. To make sure you receive your funding, you need to have a zero balance.
Students who present at a conference are encouraged to submit a poster to the annual Frontiers in Undergraduate Research poster exhibition. Presentations at other campus events are also encouraged.
Return to About the Rowe Scholars Program