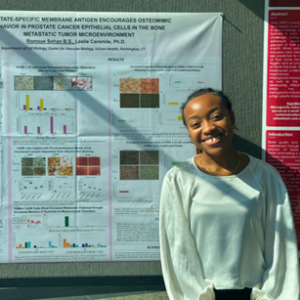 UConn Year of Graduation (Undergraduate): 2021
Undergraduate Major(s): Biological Sciences
Currently Employed By: UConn Health Graduate School
Updates: Since graduating from UConn, I have been grateful to have had the opportunity to be a part of the 2023 Young Innovative Investigators Program (YIIP) Cohort under the Cato T. Laurencin Institute for Regenerative Engineering. I am currently in the final semester of the 2-year master's program and will be graduating in May 2023 with my Master's in Biomedical Sciences. I spent the past two years working in a Vascular Biology lab that focuses on prostate-specific membrane antigen (PSMA) in prostate cancer. This program has allowed me extensive exposure to both bench and clinical research, allowing me to hone in on my lab skillset and build a greater understanding of the science behind medicine as I aspire towards my goal of medical school.
---