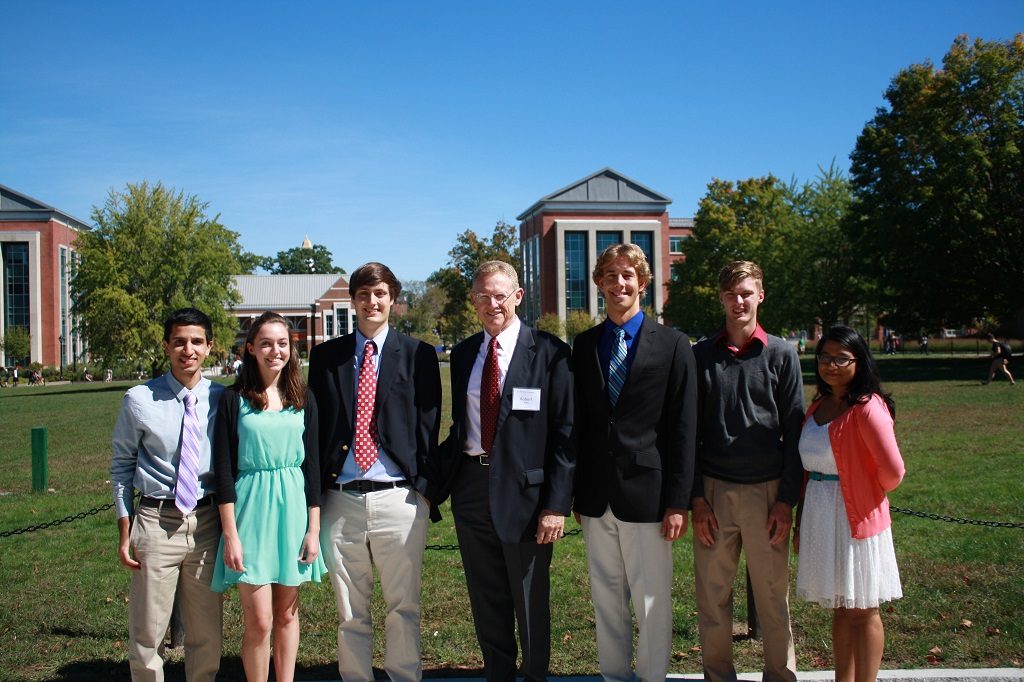 Luke LaRosa, from Montpelier, Vt., is an urban and community studies major and a member of the Special Program in Law. He is particularly interested in environmental law, public policy, and transportation geography (having ridden the school bus two hours each day throughout most of his pre-collegiate education).
Project: "School Busing in Rural Communities"
Faculty Mentor: Carol Atkinson-Polombo (Department of Geography)
Peer Mentor: Kaila Manca
Brendan Smalec, from Cheshire, Conn., is a double major in molecular and cell biology and art history who aspires to be a physician scientist and advance cancer research. He is also an avid swimmer, having been awarded the CT Swimming Three-Year Scholar Athlete Award in 2012.
Project: "Reactivating Hypermethyated Oncogenes through the Use of DNA Methyltransferase Inhibitors"
Faculty Mentor: Rachel O'Neill (Department of Molecular & Cell Biology)
Peer Mentor: Kevin Zheng
Jonathan Schmieding, from Granby, Mass., is a music major and composer. He plays the clarinet for the Marching Band and the Symphonic Band and is the recipient of a Music Department Scholarship. Having grown up to soundtracks by John Williams and Howard Shore, he aspires to be a professional composer.
Project: "Musical Composition: Developing Artistic Expression through the Synthesis of Romanticism & Atonality"
Faculty Mentors: Kenneth Fuchs and Robert Miller (Department of Music)
Peer Mentor: Kaitrin Acuna
Kayvon Ghoreshi, from Manchester, Conn., is a pre-med molecular & cell biology major. He is using his Holster experience, however, to delve into biomedical engineering. Born with a severe nut allergy, Kayvon is frustrated with the design of the ubiquitous "Epipen," and is determined to change it for the better with a new streamlined, user-friendly design.
Project: "Re-designing the Epipen"
Faculty Mentor: Donald Peterson (Biomedical Engineering Program)
Peer Mentor: Lior Trestman
D. Christina Macklem, from Tolland, Conn., is a biological sciences major interested in studying climate change adaptation. She has an affinity for frogs specifically, and amphibians in general, having witnessed an off-season baby sea turtle launch in Costa Rica during a school trip.
Project: "Effect of Temperature Variation to Wood Frog Tadpoles"
Faculty Mentor: Tracy Rittenhouse (Department of Ecology & Evolutionary Biology)
Peer Mentor: Kaila Manca
Asahi Hoque, from Cheshire, Conn., is a pre-med biological sciences major who has spent time working for Distressed Children & Infants International, a nonprofit that serves poor communities in Bangladesh, her family's country of origin. There she also interned with an ophthalmologist, performed routine eye screenings, learned about cataracts, and a host of preventable diseases affecting the community, which led to her Holster project.
Project: "A Look into the Issues Surrounding Proper Maternal Care in Bangladesh"
Faculty Mentor: Manisha Desai (Department of Sociology)
Peer Mentor: Julianne Norton
---