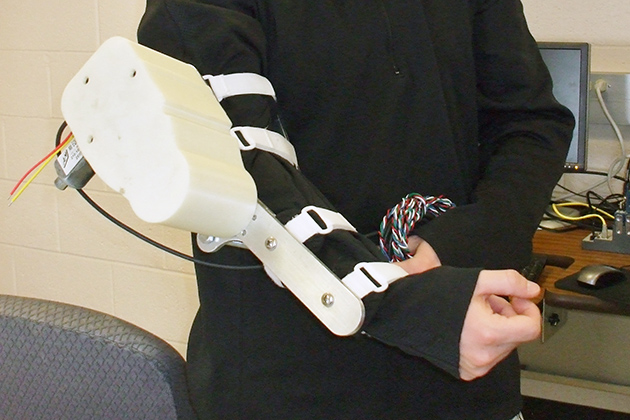 By Cathleen Torrisi
New UConn graduate Brian Coleman '13 (ENG) recently completed a major accomplishment. And not just by graduating as an Honors Scholar with a strong GPA in the demanding biomedical engineering program. His senior design project – a robotic arm – so impressed director of undergraduate biomedical engineering Donald Peterson that he is arranging for Coleman to present it to a team of NASA engineers at the Lyndon B. Johnson Space Center in Houston.
The device, designed by Coleman and his senior design group partners Eric Sands '13 (ENG) and James Vallieres '13 (ENG) with support from the Connecticut Space Consortium, can be used to rehabilitate the elbow joint and surrounding muscles in stroke victims.
It has another use, too – preventing muscle atrophy in astronauts who spend time in zero gravity.
An exact date for the presentation has not yet been set, Coleman says. Travel expenses will be paid for by another grant from the Space Consortium.
A new and improved robo arm
Coleman and his team didn't invent the robo arm from scratch. The task Peterson assigned them was to improve upon an earlier version of the device. And improve it they did.
This generation of the device has several new features, including the ability to provide resistance training without gravity by utilizing magnetically controlled fluids encased in hydraulic cylinders. It was this change that makes the device useful for astronauts in outer space.
Also critical for use in space, Coleman and his team cut the robo arm's weight by 2 pounds. That may not sound like much, but the device weighed only 7 pounds to begin with.
New software also allows the user to customize the workout, and track progress from session to session, Coleman explains.
"You can quantify progress; that's the big goal," he says.
The user straps a device on each arm, and the robo arms put him or her through a series of exercises based on control software. The device can be operated in several different modes, including a preset routine or manual operation by a third party. The resistance level can also be set.
What's more, the new robo arm is portable – the user can walk around while wearing it – whereas the previous version sat on a table.
If at first you don't succeed …
Coleman and his team have been working on the device since September. It's been a long and sometimes frustrating process, he says. The group created three different versions until they achieved the results they wanted.
"The first CAD design was awful," Coleman admits, "and I can say that, because I did it."
The original $500 budget was a big obstacle until they got the space grant, he adds. The device cost about $3,300 just to construct.
"We couldn't have done it without the extra funds," he says.
Peterson encouraged Coleman's team to apply for the Connecticut Space Consortium funding – the first UConn senior design group ever to do so. Peterson says he hopes more students will follow their example in the future.
Says Joy Erickson, UConn campus director for the Consortium, "It's exciting to see UConn engineering students not only working on something that could be used by astronauts, but getting the opportunity to share it with NASA engineers."
Coleman says he isn't sure what will come of the upcoming meeting in Houston. While he would love to have NASA develop the device, he is happy just to have the chance for the space agency to get to know him. He says he would one day like to work for NASA's Exercise Physiology Lab, creating devices like the robotic arm.
For now, the young man from Forked River, N.J., plans to take some time off from studying before going to grad school. He has been applying for jobs, mainly at medical device companies.
Whatever happens in Houston, one thing is clear: for Coleman, even the sky is no limit.
---