By Cheryl Cranick, Honors Program
"When I first started working in lighting, I always had my sights set on winning a Tony Award on Broadway," said Dan Rousseau '08 (FNAR-Honors). Now, just five short years after graduating from UConn with an Honors degree in Design/Technical Theater, Dan has established himself as a television lighting director in New York City. He also has his first Emmy.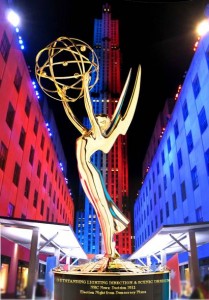 Dan's love for the stage began as a child singing in local musical choirs. He eventually gravitated backstage where he felt the real magic happened, with lighting and set design. "It's the ability to heighten scenes and push emotions," said Rousseau, "just through creating an image that can resonate in audiences' minds well after the curtain comes down."
As an Honors student in the School of Fine Arts, Dan encountered numerous mentors who helped him develop his expertise. Professors Jim Franklin and Jeff Davis "shaped my design skills," said Rousseau. Professor Tim Hunter taught him not just design, "but the business side of being a designer," he said. "And the late David Taylor showed me the world of theatre consulting." Dan holds the entire Department of Dramatic Arts in high esteem. "Faculty and staff were constantly supporting and inspiring me to do more," said Rousseau. This included taking graduate-level design coursework during his undergraduate degree.
While at UConn, Dan worked as an assistant lighting designer with the Connecticut Opera and was involved with various productions at the Connecticut Repertory Theatre (CRT). His experience at CRT served as the foundation for his Honors thesis: "Lighting Design for Pentecost." As part of this project, he created a comprehensive design procedural guide that included his "early design process, production photos, and critiques and reviews," said Rousseau. "It was my goal to provide a document that showcased the work that went into designing that show."
After a short stint as a freelance theatre designer and a call to a UConn alumna, Dan was contacted by the Lighting Design Group, the largest television lighting design company on the east coast. He was hired as an assistant lighting director and soon after moved to New York City. His first assignment was with CNN, and in less than two years Dan was promoted to lighting director for "Anderson Cooper 360." Now five years after his UConn graduation, Dan and his assistant oversee several shows for CNN, including "Quest Means Business," "Piers Morgan Live," and "Anderson Cooper 360," as well as additional special projects.
In 2012, Dan was offered a very special assignment: Decision 2012 – Election Night Coverage from Democracy Plaza. The team was asked by NBC to bring breathtaking patriotism to Rockefeller Plaza for Election Day 2012. "My main job was to make sure it was installed according to plan," said Rousseau. However, the arrival of Super Storm Sandy made that task a true challenge.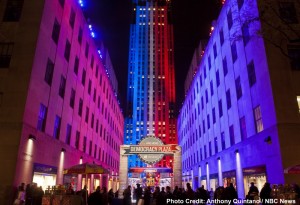 "Sandy slowed us down with the load in, but we made up the time working around the clock leading up to the big night," said Rousseau. Technological advances in lighting served as an important part of the project. "We had to keep a low power footprint because NBC and Rockefeller Plaza didn't want to bring in large generators to power the sight. Robotic moving lights were used to paint 30 Rock in the red, white, and blue that could be seen all over. LED [lights] provided a low power option to highlighting smaller features of the plaza," he said. "It used to be that if you wanted multiple colors washing a wall, you needed independent lights with color in front of them. Add that all up and it can be about 5,000 watts! Now, with a single 10 watt [LED] light, you can have every color of the rainbow," said Rousseau.
Production for Democracy Plaza began on Election Day at 7 a.m. with "The Today Show" and continued live into the evening, as millions at home and a packed plaza awaited the results. In addition to the lighting installation, "I also was stationed down at ice rink level for a mini studio where exit polls were reported on an 80-inch touch screen monitor overlooking the ice. At times we were even on the ice!" said Rousseau. "The only way to describe such an event would be to call it the Olympics of broadcast."
Almost a year after the Election Night production, the News & Documentary Emmy Awards were held in New York City. On October 1, 2013, while overseeing the lighting for a "Piers Morgan Live" special audience edition, Dan received the great news. "I was following the awards as they were announced on the Twitter page, and when I saw the tweet about Democracy Plaza winning the Emmy for "Outstanding Lighting Direction and Design,"  I was ecstatic and shouted 'YES!,' scaring my co-worker who was in the room," said Rousseau. Dan waited until a commercial break to call his parents.
While Dan still has a passion for the stage and the dream of a Tony, "winning the Emmy was unexpected and wasn't a goal I had set for myself," he said. "But now that I have, it has moved my sights on to winning the next."
Return to the Spring 2014 issue of the Honors Alumni eNewsletter
---