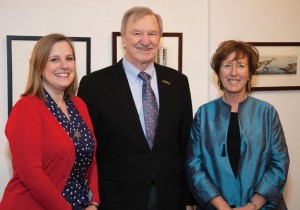 The Honors Medals Ceremony is a time for the Honors Program to individually recognize each graduating Honors Scholar before family, friends, and the university community. Seniors are presented with commemorative medallions to wear at Commencement and keep as a reminder of their successful completion of a rigorous Honors curriculum. The event also celebrates the contributions of Honors faculty members and marks the accomplishments of Honors alumni, highlighting the circular relationship of educators, students, and graduates. This year, three members of the extended Honors community were recognized.
Honors Faculty Member of the Year Award
The Honors Faculty Member of the Year Award was created to acknowledge a faculty or staff member who exceeds his/her duties as an advisor or educator and provides an exceptional educational experience to Honors students. The 2012 recipient is Dr. Virginia Hettinger, a professor of political science at the University of Connecticut. Since 2001, she has devoted much of her time to the Honors Program by serving on boards and committees, helping direct Honors education in her department, and advising students. Her academic interests include judicial behavior and public law. Learn more about this award.
Honors Distinguished Alumni Award
The Honors Distinguished Alumni Award was developed to mark the outstanding achievements of Honors alumni who have excelled in their chosen professions or made significant contributions to society or academia. The award also seeks to foster alumni relations and create a stronger Honors community. The two 2012 Honors Distinguished Alumni Award recipients are Dr. Bill DeWalt and Ms. Marian Kennedy. Learn more about this award.
Dr. Bill DeWalt  B.A. '69 (CLAS-Honors), Ph.D. '76 (CLAS) earned both his undergraduate degree and Ph.D. from the University of Connecticut in the field of anthropology/sociology. His diverse career has included research, teaching, leadership, and travel. During an informal lecture to students and staff of the Honors Program, he emphasized the importance of risk-taking and the entrepreneurial spirit. He offered insights and anecdotes to showcase how leveraging experiences and knowledge gained through a lifetime can prepare a person for the most unlikely opportunities. Learn more about Dr. DeWalt and his current position as President and Director of the Musical Instrument Museum in Phoenix, Ariz.
Ms. Marian Kennedy '70 (CLAS-Honors) earned her undergraduate degree in psychology from the University of Connecticut Honors Program and began her career in California. She completed a Juris Doctorate at the University of Santa Clara and interned with the California Supreme Court. She then specialized in employment law, serving with the National Labor Relations Board and the California Agricultural Labor Relations Board, before returning to the east coast to earn her LL.M. at Harvard School of Law. Marriage took her to The Netherlands where she began studying for a third law degree at the University of Leiden. Her natural curiosity and perseverance helped her not only learn a foreign language but also co-found a law firm in Amsterdam in 1992 that became a leader in the developing field of information technology law. In 2008, Kennedy returned to Cambridge, Mass., and currently oversees U.S. commercial real estate investments for an Israeli-based company. When she spoke to students, Kennedy promoted the importance of finding the courage to push personal boundaries and having the confidence to take on new challenges at all stages in life.
Return to the Spring 2012 issue of the Honors Alumni eNewsletter

---