By Cheryl Cranick, Honors Program
Nestled in the quiet country town of Storrs, accomplished students are hard at work preparing for what waits after graduation. These Honors Scholars eventually disperse across the country and beyond; some settle close to home, while others cross an ocean. Two alumni—one an economist, the other a molecular biologist—graduated from the Honors Program just two years apart. They both pursued competitive funding for graduate schools in the United Kingdom—programs with only a handful of slots—and both were successful. They now reside relatively close to each other, though they've never met. What they have in common is the firm foundation they gained here at UConn Honors.
When Michelle (Prairie) Parlos '09 began her undergraduate degree at the University of Connecticut, she considered a handful of majors. Her membership in the Honors Program "helped me quickly find like-minded people, get extra face time with faculty, and deepen my understanding in certain subjects," said Parlos. It was an Honors course in microeconomics that confirmed her interest in pursuing economics.
Well-traveled even before graduating from UConn, Parlos had already spent time living, learning, and serving others in Brazil, Spain, Mexico, Peru, and Sweden. The study abroad trip to Sweden was her longest experience in another country. "I loved that trip," she remarked, "but my ability to make close friendships with locals was hampered by not speaking Swedish." Fortunately for Parlos, opportunities existed to live overseas without being hindered by language. The one she chose is among the most prestigious—the Marshall Scholarship.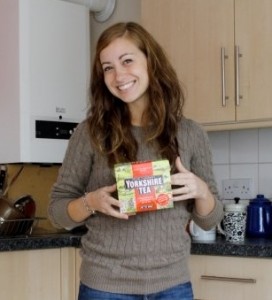 The Marshall Scholarship is a partnership between the U.S. and Great Britain, intending to foster continued relations between the two nations. Applicants must be U.S. citizens who hold four-year university degrees and 3.7 or higher grade point averages. Hundreds of U.S. students compete annually for one of the 40 coveted spots. The scholarship covers two years of study at a leading university in the U.K. "That I could live in another culture but still share their first language—or at least something very similar—was a real attraction to studying in the U.K.," said Parlos.
Parlos knew getting there would not be easy. In UConn's history, only one other student has been named a Marshall Scholar. Dr. Virginia DeJohn Anderson '76, also an Honors Scholar and a 2010 Distinguished Alumni Award recipient, was the first. This professor of early American history at the University of Colorado at Boulder earned her master's degree from the University of East Anglia in Norwich, England before returning to the U.S. to continue her education at Harvard University.
'A long shot'
"Going through the application process, it always felt like a long shot," Parlos said. "I mentioned it to my boyfriend at the time, now my husband, saying something like 'I think I'm going to apply for this scholarship to study in the U.K. It's not going to happen, but how would you feel about living in England if it did?' "
Before students can be considered for the Marshall Scholarship, they must first be nominated by the university in which they are enrolled as an undergraduate. Each school reviews possible candidates and selects a handful of nominees. In the spring of 2008, while studying in Sweden, Parlos learned that UConn had selected her as a contender.
Next came the real work: perfecting her application, writing her personal statement, soliciting letters of recommendation from her UConn professors, and developing her interview skills. Jill Deans, Director of the Office of National Scholarships, and her academic advisor, economics professor Richard Langlois, guided her progress as a candidate. "I had multiple mock interviews, one of which was filmed so I could see what I was doing right and wrong," said Parlos. She also gained valuable insights from former Marshall Scholars.
"I was terribly nervous for the interview, but I actually really enjoyed it," Parlos said. Once inside the Boston British Consulate, she read the names and biographies of her interview panel. "I remember feeling even more nervous when I saw that one of my interviewers was an economist. In the end, the interview felt a lot more like a conversation with five impressive people who honestly wanted to hear what I had to say." Twenty people "like me" were interviewed, Parlos said. "They chose four of us."
Parlos now holds two master's degrees from the U.K. She began at the University of Nottingham studying economics and development economics. This first degree strengthened her technical and theoretical knowledge. Parlos spent her second year at the London School of Economics earning a degree in economic history.
Two years after leaving UConn, Parlos and her husband, Stephen, are now part of the London workforce; he in finance and she as an analyst. They have enjoyed opportunities to travel, become accustomed to the cozy pub culture, taken time to know their neighbors, and joined a church. Just a few things besides family and friends are missing: "A dryer or dishwasher, iced coffee, autumn in New England, chocolate peanut butter ice cream, and having a car," said Parlos. "The modern conveniences that Americans often take for granted."
Back in the lab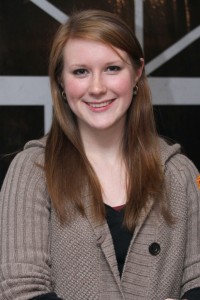 Roughly an hour away from Parlos, Honors Scholar Kathleen Stewart '11 is working toward her Ph.D. in molecular biology at the University of Cambridge, one of the oldest and most prominent universities in the world. It is also home to the Babraham Institute, where Stewart is currently conducting research. "I've lucked out in a big way with the lab I joined and my project topic," she said. One of her areas of interest is the behavior of genes in differing cells (epigenetics), which is also a research focus of the Institute.
Stewart came to UConn on a Nutmeg Scholarship that funded her entire undergraduate education. She double majored in molecular and cell biology and anthropology. Though different disciplines, "the exposure to the social science aspects of the field that I got from classes in ethnography and social anthropology helped make me well rounded, and my decision to pursue science well informed," said Stewart. As a University Scholar, she was allowed greater freedom to combine these fields. "[I] compared genetic and archaeological approaches to studying modern humans and Neanderthals," she said. "I focused on physical anthropology and human evolution in my anthropology studies."
The Honors Program offered Stewart access to all of the classes she needed to graduate in four years with her double major. It also introduced her to advisors and mentors in both fields, including Professors Daniel Adler (anthropology), Michael O'Neill (molecular and cell biology), Rachel O'Neill (molecular and cell biology), and Judy Brown (allied health sciences). The opportunity to work in Rachel O'Neill's lab gave Stewart "confidence that I could be successful as a researcher…Rachel is the one who really made me excited about science and about doing research," she said.
After being accepted to Cambridge, Stewart was considered for various scholarship opportunities. She was named a finalist for the exclusive Gates Cambridge Scholarship, the first in UConn's history, and she received complete funding from the prestigious Cambridge Overseas Trust.
Stewart's program is expected to take three to four years. "A lot depends on the nature of your research and how quickly you can get experiments to work," she said. Through her lab, she has a supervisor, a postdoctoral researcher mentor, as well as an assessor who oversees her reports and will be part of her doctoral defense panel. This structure provides "daily support from within my lab, but I have help and insight from a scientist outside my immediate field when I'm stuck on a problem," said Stewart. Yet her network doesn't end there. Stewart has also taken on the responsibility of teaching undergraduate students. That experience will only help her compete for postdoctoral positions. "Whether that will be in the U.K., the U.S., or somewhere else, I'm not sure yet," said Stewart.
Her time in Cambridge isn't her first time in the region. Stewart spent a semester abroad in Ireland during her undergraduate degree. "I think I had always wanted to do my graduate studies in the U.K., but studying abroad in Ireland gave me confidence that I could move over here for a longer period of time and be OK." And with Skype, smartphones, and the occasional trip back home, Stewart said she doesn't feel that far away.
Stewart now lives in graduate student housing with four other students of varying fields. "We're all studying different things, which is nice. Otherwise, it's easy to go into science overload!" She also steps away from the lab to row for her school and has traveled a bit, though not as much as she would like.
Her ten-year plan is still in flux. She is inspired more by goals than rules. "In 5 years…I could see myself going back to the U.S., but moving to the west coast, or moving back to the east coast, or staying in the U.K., or maybe going somewhere else in Europe. So really, I have no idea where I'll be!" said Stewart. "And in 10 years, I might be working in industry or still in academia as a postdoc, or maybe possibly a group leader? But I know I definitely want a family by then, although again, where I'll be is also totally up in the air at the moment, which is nice in a way!"
Return to the Spring 2012 issue of the Honors Alumni eNewsletter
---