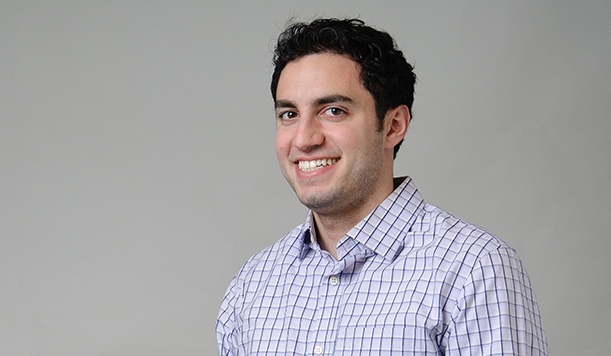 By Lauren Lalancette
Shervin Etemad '14 (CLAS) entered UConn with a declared major and has never wavered – but as graduation approaches, he's becoming increasingly open-minded about his career path.
A molecular and cell biology major from the beginning, Etemad wasn't among the one-third of freshmen who enter UConn without having chosen a major. A Trumbull native, he graduated in the top 4 percent of his high school class, and accepted UConn's Academic Excellence merit scholarship along with an invitation to join the Honors Program.
He began his UConn career planning to go directly to medical school upon completing his university studies. In pursuit of that plan, he researched muscle development in Professor David Goldhamer's lab, and was a volunteer coordinator for the UConn Health Center's Migrant Worker Clinic. While he values both these experiences, co-curricular activities that unleashed his leadership abilities inspired him to explore other interests as well.
In 2012, the University recognized Etemad's leadership potential by inviting him to join UConn's Leadership Legacy Experience. This year-long program annually brings together about a dozen of UConn's student leaders to participate in co-curricular activities with alumni, faculty, and staff to enhance the students' leadership skills.
Leadership Legacy got Etemad thinking about what he could initiate as a UConn student that would have a lasting impact. He became engaged in expanding the mission and scope of the Honors Program's Global Leadership Commission, which brings national business and political leaders to campus to interact with students. He is working with a group to create a systematic networking program that bridges class years, so new Honors students connect with upper-class Honors students in the same major.
"A lot of students who were leaders at their high schools arrive at UConn looking for a starting point for how to engage here," Etemad says. "It's really cool to help them get the support of upperclassmen, so they can contribute sooner and most effectively."
Being a resident assistant in UConn's Honors Learning Community gives Etemad the opportunity to help connect younger honors students with older honors students. "Everything ties together on some level," he says.
Next year Etemad will work with UConn's Department of Residential Life and the Connecticut Center for Entrepreneurship and Innovation to launch a new learning community, to be known as Innovation House.
With a year left before graduation, Etemad says he's doing "quite the opposite" of firming up his career plans. "I'm actively defining my other areas of interest," he says. "I'm not locked in to what I'd planned in the past."
Etemad, who has a minor in Spanish, said he decided to add another minor, in women's, gender, and sexuality studies, "a field that's a breath of fresh air," he says. "It's nice balancing out a heavy science course load with humanities classes. I've found other academic areas that interest me. I'm quickly realizing how short my time here at UConn is, and I want to make the most of it."
Adapted from UConn Today
---