Vlad Coric, M.D.
Associate Clinical Professor, Yale University
New Clues to Understanding Alzheimer's Disease
Tuesday, April 17, 2012, 7:00 pm, Student Union Theatre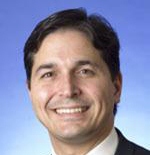 Dr. Coric completed his undergraduate degree as an Honors Scholar in Physiology and Neurobiology at the University of Connecticut and earned his medical degree at Wake Forest University School of Medicine. He completed his internship at Yale-New Haven Hospital and his residency at Yale University School of Medicine's Psychiatry Residency Training Program. He served as Program-Wide Chief Resident in the Yale University School of Medicine's Department of Psychiatry and as Chief Resident at the VA Connecticut Healthcare System's National Center for Post-Traumatic Stress Disorder. Dr. Coric completed sub-specialty training at Yale University School of Medicine's Division of Law and Psychiatry in Forensic Psychiatry.
Dr. Coric is currently Group Director of Neuroscience Global Clinical Research at Bristol-Myers Squibb and Associate Clinical Professor of Psychiatry at the Yale University School of Medicine, where he directs late stage clinical research trials focused on the use of gamma secretase inhibitor (GSI) studies in Alzheimer's Disease. His research interests also include the neurobiology and treatment of mood/anxiety disorders, OCD, post-traumatic stress disorder, psychobiological indices of stress, psychotic disorders, and substance abuse/dependence.
Dr. Coric has served as the Chief of Inpatient Services at the Yale Clinical Neuroscience Research Unit and is a founding partner of New Haven Forensic Consultants, LLC. Dr. Coric is the Immediate-Past President of the Connecticut Psychiatric Society (a district branch of the American Psychiatric Association) and is currently President of the Yale Psychiatry Alumni Association. Dr. Coric has over 45 peer-reviewed journal and book publications, and interviews with him have appeared in Scientific American, Time, and Men's Health.
Return to The John and Valerie Rowe Scholars Visiting Lecture
---