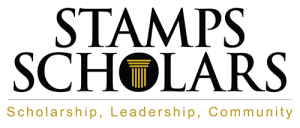 About
In 2006, philanthropists Penny and E. Roe Stamps IV began merit scholarship programs at their university alma maters. The success of those initial gifts led to partnerships with various universities across the nation, providing millions of dollars in support to high-achieving undergraduate students. The University of Connecticut is proud to be a Stamps Scholars Program partner.
Benefits of being a Stamps Scholar
Full support (tuition, room and board, fees, books, transportation, miscellaneous)
Funding for enrichment experiences (up to $12,000 per student)
Guaranteed admission to UConn's highly selective Honors Program
Access to other opportunities such as the University Scholar Program, guidance for professional school admission (law and medicine/dental medicine), special cohort programs, support while competing for national scholarships, undergraduate research, and becoming a global citizen, just to name a few
Membership into the national network of Stamps Scholars
Become a Stamps Scholar
To be considered for a Stamps Scholarship, please contact Undergraduate Admissions at beahusky@uconn.edu.
How to use your Stamps Scholars Enrichment Award
If you have been awarded a Stamps Scholarship by UConn, you will also have access to annual Enrichment funds. Learn more about the guidelines and link to an application and budget sheet.
How to support Stamps Scholars at UConn
Each year, the Stamps Scholars Program will provide half the cost for up to five renewable (8 semester) scholarships. The University will match those funds through gifts from private donors. Help the UConn Foundation advance this opportunity. GIVE
Meet the Stamps Scholars
News and Updates
Stay up to date on news related to Stamps Scholars.