Advising at UConn is an important part of your experience, and you will have access to multiple advisors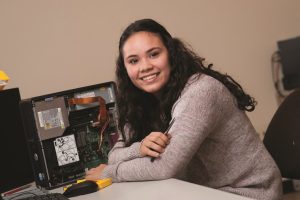 for various interests, requirements, and involvements. Your STEM Scholar Advisor will require you to meet at various times in your academic career. Read more about what to expect and plan for in the STEM Scholar Advising Syllabus.
In general, STEM Scholar Advising will include:
Discussions of academic, Honors, and scholarship requirements
Planning for engagement in STEM activities and goal-setting
Support for well-being and success at UConn and beyond
You'll be assigned to and have access to multiple advisors who have different roles and expertise to help you find success at UConn and beyond:
STEM Scholar Advisor

Review academic, Honors, and scholarship requirements, discuss plans for engagement, find connections to opportunities

Honors advisor in your major/department (potentially multiple)

Major curriculum requirements, approval and signatures on plans and forms, connection to your specific major/field

Pre-Professional Advisors (Pre-Medical and Pre-Dental or other Health Careers, Pre-Law, Pre-Vet, etc.)
Other advisors, mentors, supervisors you seek out or are assigned along the way
Note: While you will be required to meet with advisors during your time at UConn, it is ultimately YOUR responsibility to ask for help and seek out opportunities. The best Honors students are the ones who ask for the most help, not just from advisors, but also from professors, other staff and resources on campus, and peers! Asking for help also leads to learning about opportunities such as research positions, internships, jobs, etc. While it is ultimately your responsibility to secure these opportunities, meeting with advisors and being proactive will help!