Welcome to new and veteran Honors advisors! Thank you for your involvement in mentoring and advising Honors students! This "toolbox" is intended to be a spot from which you can quickly access any information you might need about the Honors Program during the course of an advising session. If at any time you have questions to which you can't find the answer, don't hesitate to get in touch with an Honors staff member.
See Quick Links for requirements for students who entered UConn fall 2017 or earlier,
and other useful information.
Working with Students
Academic Self-Assessment
Honors Preliminary Plan of Study – Instructions for Honors Advisor Review and Approval
New Awards: Honors Scholar and University Honors Laureate
Fall 2020 Honors Advisor Coffee Hours
Spring 2020 Honors Advisor Update Sessions
Fall 2019 Honors Advisor Update Sessions
Spring 2019 Honors Advisor Update Sessions
Fall 2018 Honors Advisor Update Sessions
Spring 2018 Honors Advisor Update Sessions
Visual and Textual Views of the Honors Scholar and University Honors Laureate Award Requirements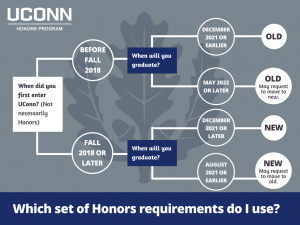 Definitions and Frequently Asked Questions
Explanation of Requirements Shared at Orientation 2018
Honors Advisor Digest Archives
Dec-19 | Nov-19 | Oct-19 | Sept-19 | May-19 | Apr-19 | Mar-19 | Feb-19