Welcome to new and veteran Honors advisors! Thank you for your involvement in mentoring and advising Honors students! This "toolbox" is intended to be a spot from which you can quickly access any information you might need about the Honors Program during the course of an advising session. If at any time you have questions to which you can't find the answer, don't hesitate to get in touch with an Honors staff member.
See Quick Links for requirements for students who entered UConn fall 2017 or earlier,
and other useful information.
Working with Students
New Awards: Honors Scholar and University Honors Laureate
Spring 2018 Honors Advisor Update Sessions
New Curriculum and Awards PowerPoint with Voiceover Explanation
Visual and Textual Views of the Honors Scholar and University Honors Laureate Award Requirements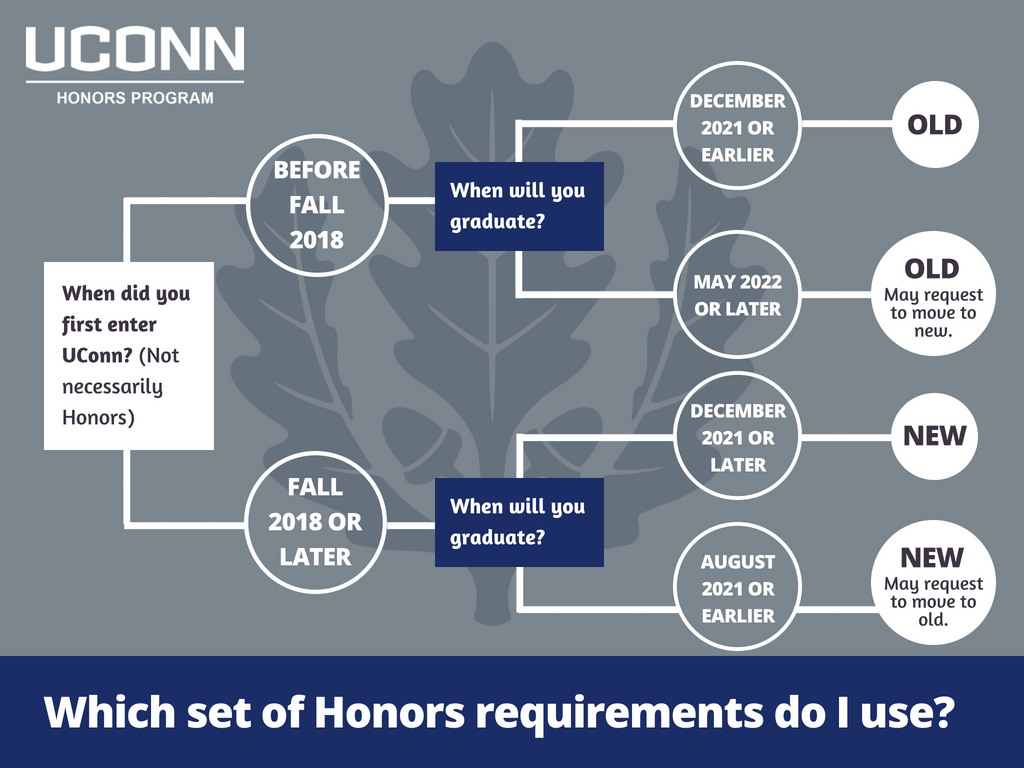 Definitions and Frequently Asked Questions
Explanation of Requirements Shared at Orientation 2018
Students were shown four videos. Video two, which contains an explanation of Honors requirements, may be of particular interest to advisors.
The videos were embedded in a PowerPoint. After watching the requirements video (video two), Honors staff walked students through the Honors Scholar and University Honors Laureate Planning Worksheet, as shown in the PowerPoint. For real world examples of how students' courses and activities mesh with requirements, the PowerPoint highlighted a schedule and resume excerpt from our two Orientation Leaders, Alex and Claire. Students looked at Alex's first semester schedule and were asked how her Honors courses met requirements. Students then looked at Claire's resume to see how her activities fit into the co-curricular requirements. Take a look at the PowerPoint and examples!
Honors Advisor Digest Archives
Oct-18 | Sept-18 | May-18 | Apr-18 | Mar-18 |  Feb-18